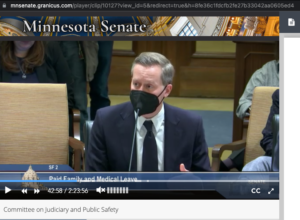 On February 6, 2023, the Minnesota Senate Judiciary Committee heard testimony on a bill that will provide paid family and medical leave for Minnesota workers. Brian Rochel was asked to testify regarding the provision of the bill that protects workers from being discriminated or retaliated against for seeking rights under the new law.
The bill passed the Judiciary Committee and is moving quickly through the legislature. Kitzer Rochel strongly supports the law and looks forward to Minnesota being a leader in the country on providing paid family leave. The law contains strong language allowing employees who experience discrimination or retaliation to bring a claim in court and have their case be decided by a jury.
If you have questions about the new Paid Family Leave Act, which we expect to pass into law this session, please contact Kitzer Rochel. Similarly, if you have questions about your rights to be protected from discrimination or retaliation, contact us today.