Employees who report illegal conduct by a company may be whistleblowers. A whistleblower may be entitled to substantial monetary awards for reporting fraud and is generally protected from retaliation. If whistleblowers do experience retaliation, they may have additional legal claims.
Frequently, when an employee discovers fraud at work or by their employer, they may seek to copy or retain documents to prove the fraud or seek legal advice. There are many documents that may be relevant, even necessary, to prove a whistleblower claim. Emails, invoices, statements, letters, or many other types of documents could show that a company acted unlawfully and may be able to prove a whistleblower claim.
However, the law is complicated regarding what information a current or former employee may be allowed to retain or copy. First, most employees have some type of agreement prohibiting them from keeping company information (which is typically defined very broadly and could include nearly any company document). Employees should always review any agreement they signed to understand their obligations. If an employee keeps documents they are not allowed to have, they could potentially be sued by their employer.
Second, state and federal law may prohibit employees from making copies or retaining certain categories of documents. Examples include trade secrets or communications protected by the attorney-client privilege. There are many more examples and the law in this area is complex.
While there are many agreements and laws that limit what documents or information employees are allowed to retain, whistleblowers have special protections. One example includes the "whistleblower immunity" contained in the U.S. Defend Trade Secrets Act of 2016 ("DTSA"). The DTSA contains an express carve-out for whistleblowers who disclose trade secrets to attorneys for the purpose of seeking advice about potential whistleblower claims. Under the right circumstances, an employee cannot be liable under the act for doing so.
One of the bill's sponsors, Senator Charles Grassley, explained: "Too often, individuals who come forward to report wrongdoing in the workplace are punished for simply telling the truth. The amendment I championed with Senator Leahy ensures that these whistleblowers won't be slapped with allegations of trade secret theft when responsibly exposing misconduct. It's another way we can prevent retaliation and even encourage people to speak out when they witness violations of the law."
At the same time, employees must be very careful about what information they retain, the manner in which it is retained, and to whom they disclose any such information. We strongly encourage employees and whistleblowers to seek legal advice from an experienced attorney before taking any action or retaining any documents that could be protected, trade secret, confidential or the like. If you have questions or would like to learn more, contact us today.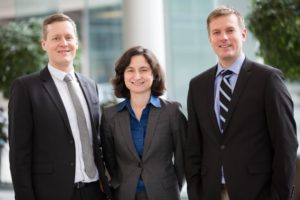 https://kitzerrochel.com/wp-content/uploads/2020/07/Kitzer-Rochel-RGB-300-88.png
0
0
Admin
https://kitzerrochel.com/wp-content/uploads/2020/07/Kitzer-Rochel-RGB-300-88.png
Admin
2019-01-28 13:25:36
2019-01-28 13:41:43
Can A Whistleblower Keep Work Documents If She Is Terminated?